Want to know how to write a business plan for your online business? This guide will give you the practical steps needed for this critical step to make money online. It has never been easier to start an online business with over 20% of home based businesses in the US making between $100-500k a year.
As I discussed in one of my earlier blog posts, The Work From Home Dream – Is It Realistic? there are currently 38 million active home based businesses. Even better, nearly half of them cost less than $5000 to start. 
So with an incredibly low barrier of entry, it is critical to not skip the planning stage. When you write a business plan for your online business will ensure you follow the correct path, and start making money online quicker. So how do you write a business plan for your online business? Lets take a look at this simple guide. 
Start From The Beginning – Where Do You Want To Go?
I know this might seem obviously, but its important to decide where you want to go, and how you want to get there. In most of my blogs I speak about this step being the most important. Planning is the most important step in creating any business, online or offline.
Without a destination, or end goal its difficult to map how to get there. Now you may be thinking – I want to make as much money online as I can. But that's not a good goal. Your goals need to be specific and measurable. Perhaps instead your goal is to create a blog that generates over 100,000 visitors a month through organic search.
This goal will obviously contribute to the generic "I want to make as much money online as I can" goal. But can be measured, and you can easily create small steps along to way to achieve. Such as write 30 blog posts in 30 days. Get 500 visitors in a month, by month two.
Then you must ensure you measure how you are going in relation to the goal. You will be able to understand what is effective. What is contributing the most to your end goal, and how do you replicate that. Once we know where we want to go, we can begin planning how to get there. 
Write A Business Plan For Your Online Business – What Niche?
The next important part of your business plan is to decide what niche you will operate in. Or essentially what will your business be. You should play to your strengths – the possibilities are endless so why not decide on something you will love. There are so many ways to  make money online through advertising on various mediums, drop shipping, setting up an online business to sell your own products or affiliate marketing.
No guesses for what I recommend. Affiliate marketing is a great way to play to your strengths as there is a program for virtually anything you are interested in. On top of that it gives you the opportunity to market your business in many different ways. 
Below is a graph of the top 20 categories in affiliate marketing. As you can see there are a wide range of topics to choose from. Then from there you can drill down into your own niche to really target your interest areas. Interested in fashion for dogs and cats – you can write about it. Once you have decided on your niche or industry, then you have to come up with a content plan.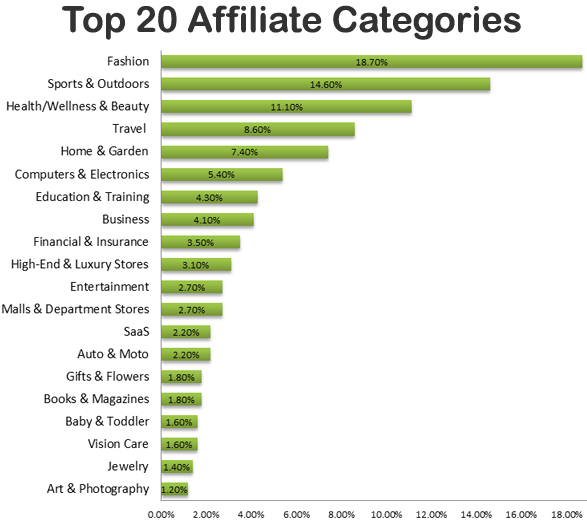 RECOMMENDED: Check out my number 1 recommendation and join the Marketers Club today
Research Your Market
The next step when you write a business plan for your online business is to research your market. Who will your customers be? What social media channels do they use the more?
You can get a jump start by looking at others in your market and see what they are doing. Who are they marketing to? Fortunately, in today's internet age, there is no shortage of metrics and information. A lot of your finer data will come from analytics of your posts and social media. But a top line analysis will help you shape your content to ensure it aligns with your target market.
In affiliate marketing you will always have two groups of customers. First you will have other affiliate marketers. Those who want to do what you are doing and earn money online. People in this demographic are diverse and can come from any walks of life.
Before I started my full-time online marketing career I have a 150k+ high paying stead job. I am no real financial need to start making money online. Nor did I have any reason to quit such a steady well-paying job. I had been there for over 10 years and was pretty much guaranteed a job for many years to come. But I wanted to build something myself. Challenge myself, grow my own skills and take more control of my future.
Your second market, if you are selling a good product for an affiliate program will be those interested in your actual product. You should be selling a valuable product, that users want regardless of the affiliate marketing bonus.
All you need to discover is your demographic!
Decide On Your Budget
Your budget is really up to you, and will obviously govern how far you can go with your online business. Now if you are like me, you will want to get started for as little as possible.
If this is your desire then obviously you will need to focus on free traffic. Your SEO for your website or blog will have to be strong to ensure you get organic search traffic. Check out these 5 Easy To Fix SEO Errors to make sure you are not making easy to fix errors! 
Then your next strategy will have to rely heavily on social media. This is obviously a massive market that has great potential to reach large audiences. 
If your budget is higher, you may want to get into paid advertising. Be careful going down this path as you can quickly find yourself spending a lot of money, and not actually making any sales. Paid advertising is a tricky business to be in.
My suggestion would be to take the "free traffic" approach, while you learn the skills to successfully implement a paid strategy. I would strongly suggest joining my number 1 recommendation, the Marketers Club to learn as much as you can about marketing.
Once you join you can take the free 15 Day Business Challenge and work on planning your business with a business adviser. 
Define Your Marketing & Content Strategy
Finally you have you know your business industry, your customers and your budget, you need to develop your marketing & content strategy. You marketing strategy should include which social channels you will use. How often you will post, and when you will post.
Tip: Check out Social Media Posts – How Much Is Too Much? to help you plan how often and when you should post.
Your content strategy should be heavily dependent on your industry, and your target market. Again you can look at your competitors and what they are posting. The tone of their messages and the media they use. They have no doubt been in the market for a lot longer than you, and have discovered what works.
You MUST measure and track your posts and content. Using google analytics, and your social media analytics you can start to see which content leads to sales. Along with knowing which media your audience engages most with. This will help you further define what your content and brand personality need to be. 
My final tip and most importantly with this, is consistency. You need to remain consistent. Map out your first 30 days of posts, and ensure you stick to your plan. To help with scheduling check out, Hootsuite – Content Publishers Dream!. Hootsuite it is a life saver and a time saver!
Set Up A Review Schedule
It is important to review your business plan regularly to ensure you direction hasn't changed, or if it does, your strategy adapts the way it needs to be. Online business is a fast paced and dynamic environment to operate in.
If you are not prepared to quickly change, and redirect your business plan you will not succeed in this market. I like to review my business plan every 3 months. Often you may not change the core of your business plan, but at the very least you will do some in depth analytics of all your business data. 
RECOMMENDED: Check out my number 1 recommendation and join the Marketers Club today
Need Help Setting Up Your Business And Marketing?
One of the first things I tell my clients, and those I work with is to be prepared to invest in yourself. You will never know more than everyone else, and if you think you do you are wrong. Always be looking for ways to further you knowledge from those who are more successful and know more.
I started Affiliated Success with one goal in mind – to find the best way to make money online. Through countless reviews I have seen a lot of programs. A lot of training resources and platforms – and I have picked the best one. 
Once you sign up to the Marketers Club you can take the FREE 15 Day Business Challenge and team up with your very own business adviser. 
You will then work on building a plan to start YOUR business and learn the keys to building a profitable online business. The best part is your adviser is there every step of the way. You can ask them anything!
If you are serious about making money online, join the marketers club to learn all the secrets to online marketing:
Please follow and like us: