For those of you that follow me on social media, Affiliated Success Instagram, Affiliated Success Twitter, you may have seen my recent posts on YouTube. For those of you who missed it, here is a little snippet of the post;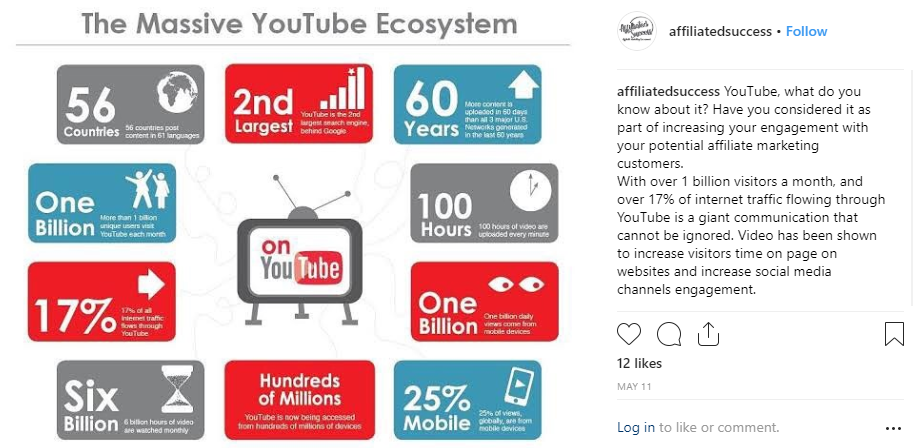 There is no denying that the Youtube Eco System is massive with over 1 billion unique users A MONTH who watch over 6 billion hours of content A MONTH. If you are an affiliate marketing and you are not using Youtube, you are missing out on a great marketing medium. With the right content you can reach 1,000s if not 100,000s and generate tonnes of free traffic.
So why exactly should you add YouTube to your affiliate marketing content strategy? Lets take a look.
RECOMMENDED: Check out my number 1 recommendation and join the Marketers Club today
Three reasons to invest in video marketing
1. Provide valuable information
When some visits your site, and cannot figure out where to go, or what is happening, that is when a bounce occurs. 
Video has been proven to engage viewers for longer than standard text only alternatives, and graphics. In fact, according to Oberlo, a drop shipping website, 72% of people would rather use video to learn when text and video are available on the same page. Further to this, users spend on average 88% more time on a website that has video.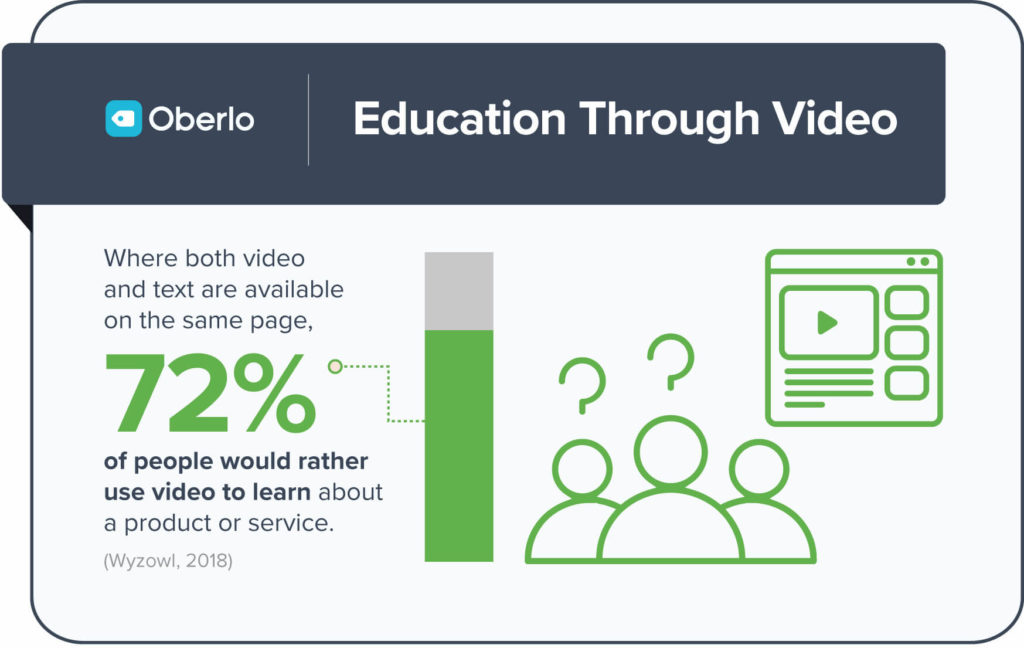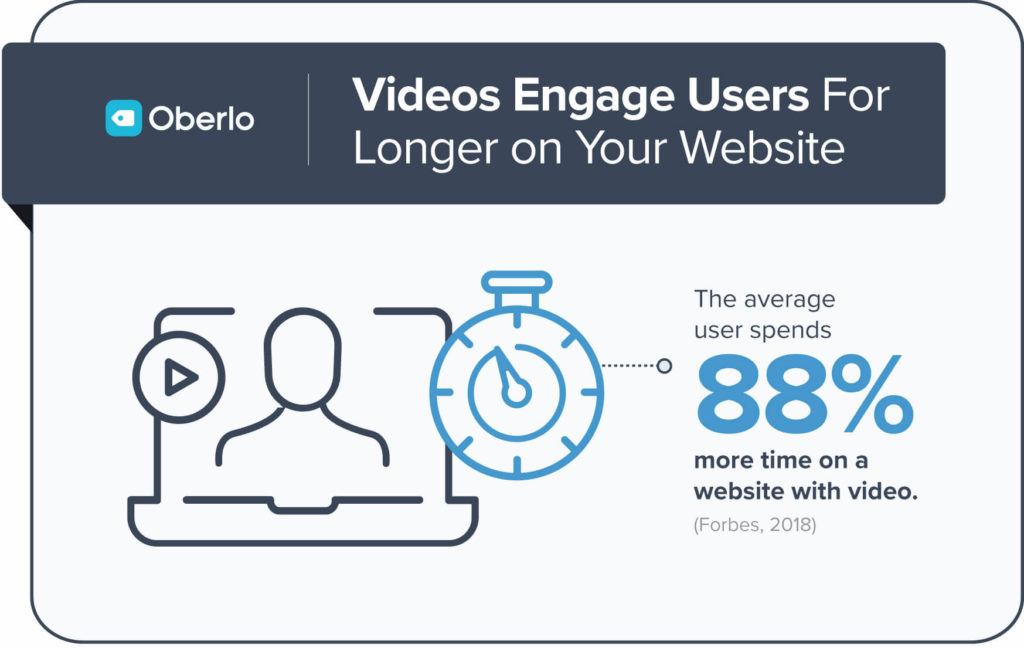 This is because video is a far more effective way of communication information than text for most people. You are able to relay a large amount of information, as well as visually demonstrate what you are talking about.
According to Forrester Research, a one minute video is worth 1.8 million words of text. So unless you intent to write 1.8 million words of content, and then also expect your users to read it, consider if its best put into a video!
2. Reach a new audience
As we touched on earlier, over 1 billion hours worth of video is watched every month. The average mobile-viewing session on YouTube lasts more than 40 minutes and there are no surprises why. Have you every found yourself watching a quick video, then when it finishes you click on to the next suggested video? And then another, and another?
Youtube and video marketing is strongly becoming THE way to establish yourself as a leader and authority in your field or industry. The market is astronomical, and viewers often watch videos, just because they were suggested and similar to the first one they intended to watch.
Youtube gives you the potential to reach a new audience that other mediums would not give you access to. On top of that, if you are creative enough with your content, you have the potential to go viral. Albiet slim, people share video content frequently that is engaging and entertaining.
This presents an affiliate marketer with a great opportunity to establish massive reach. Adding video to your posts also increases your chances of making it to the top of Google search results by 53% according to nichehacks.com.
3. Conversion
According to and article by Impact 52% of consumers say that watching a product video makes them feel more confident about making a purchase.
Furthermore according to Wordstream, having a video on your landing pages increases your chances of converting a lead by more that 80%. 
Not only does video market help engage and attract your leads, but it also helps convert them. This is a massive win win opportunity that you cannot ignore.
Still not convinced?
If these 3 reasons weren't enough, lets list of just a few more staggering stats, to really drive home the point. 
Among millennials, YouTube accounts for two-thirds of the premium online video watched across devices.
In an average month, 8 out of 10 18-49 year olds watch YouTube.
Two-thirds of YouTube users watch YouTube on a second screen while watching TV at home. 
One mobile alone in an average week reaches more 18+ year olds during prime time TV Hours that any cable TV network. 
92% of mobile video viewers share videos with others.
Marketers who use video grow revenue 49% faster than non-video users.
Viewers retain 95% of a message when they watch it in a video compared to 10% when reading it in text.
Sources: Wordstream, L & T
And the stats go on, and on, and on. If you are an affiliate marketing you MUST use YouTube for your content strategy. It is more engaging, it reaches an unbelievable amount of people, and it converts better than other methods of marketing.
Simply put, video is the best format to tell a story and relay a powerful message. You can connect with your consumers on an emotional level, building a stronger brand loyalty than any other content format. 
So How Do I Use YouTube For Affiliate Marketing?
Great so now you understand the true power and importance of YouTube marketing how can you leverage this into making money online with your affiliate marketing business?
The key is building a loyal following, and establishing a community that others want to connect with, and engage in. In order to do this, you must be pushing for social media engagement, for tips on how to do that read my recent blog, 7 Hacks to Boost Social Media Engagement.
Be consistent. Establish your social media content strategy first – what you will post, where you will post it and how often you will post it. The stick to your schedule and commit to the process. 
The number 1 tip I have for any affiliate marketer is to do some training, educate yourself and surround yourself with other marketers. You will be amazed what a simple training course can give you access to. Often its more about the people involved, than the content itself. 
That is why my first suggestion to all my clients and subscribers is to join the Marketers Club, and start the 15 Day Business Challenge IMMEDIATELY. Not only does the 15 Day Business Challenge give you access to daily content coaching you on building your online business, but you get teamed up with a business adviser. 
For the full 15 days you have scheduled calls to discuss what you have learnt, how you will apply it and basically how you will start your affiliate marketing journey. Or if you have already started it, how you will really explode your sales. Better still they are available to you whenever you like – just schedule a call. 
If you are serious about making money online, join the marketers club to learn all the secrets to online marketing:
Please follow and like us: