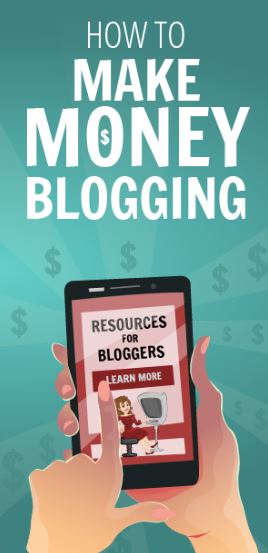 There are countless ways to make money online through blogging, and in time I will write some blogs on each of them. But the main focus of Affiliated Success is , in case you didn't guess it, affiliate marketing. So this will be an indepth guide to make money blogging with affiliate marketing 
Coupling affiliate marketing with blogging is an excellent, virtually free way, of starting your online money making journey. Whether you are promoting someone else's affiliate links, or you eventually grow to selling your own, blogging is a great way to do it. 
So you want to dive in straight away and start making money? Well sad to say, it won't happen over night. Blogging relies on two important things to generate free traffic.
Firstly your own self promotion through social media, and eventually when your content is good enough others promoting your articles for you. And secondly SEO. The more content you write well, the more content google has to reference in their search results. Both take time.
Each of these I will cover off in more detail in this article, but if you are just getting started it would be worthwhile checking out my recent blog. How Long Will It Take To Make Money Online? an uncensored account of how long it took me to make money online. 
So now we have covered that, lets jump right in to your blueprint to making money online with affiliate marketing and blogging!
How to Start Affiliate Marketing
I have covered this on multiple times in a series of blogs, but in this one, it will specifically be targeted at blogging for affiliate marketing. If you would like to look at the previous posts you can find them below;
In layman's terms, blogging for affiliate marketers is
Writing a targeted article that will interest your potential customers
Either promoting it on social media, or waiting for SEO to start picking it up
Placing special tracking links in your blog, to earn commissions on sales.
Obviously things get a little bit more complicated in between all those steps, and there are certain nuances to getting to most out of your blogs, but that is the gist of it. Then you should go through the below steps before you start thinking about selling.
Decide if its really for you – can you consistently write a blog a day of anywhere from 500 – 2000 words?
Decide on on your target industry, or niche.
Develop your content strategy and plan your posts
Then move on to the selling part!
Is Affiliate Marketing & Blogging for You?
To start out you first need to identify what you are passionate about, or what you want to write about. If you want to make money blogging with affiliate marketing, there is no point starting a blog if you either don't enjoy writing, or you chose a topic that you hate writing about. And I really must stress this – you should enjoy writing. My content schedule involves publishing a post a day, generally 1000-2000 words. Google loves sites that update regularly. So in a month I need to write 30,000 words. That would be very difficult if I hated writing!
The good thing about affiliate marketing is there really is a program for every market that you can imagine. So if you are interested in something specific, even niche, chances are you will be able to find something to sell or promote. 
Below is a graph of the top 20 categories in affiliate marketing. As you can see there are a wide range of topics to choose from. Then from there you can drill down into your own niche to really target your interest areas. Interested in fashion for dogs and cats – you can write about it. Once you have decided on your niche or industry, then you have to come up with a content plan.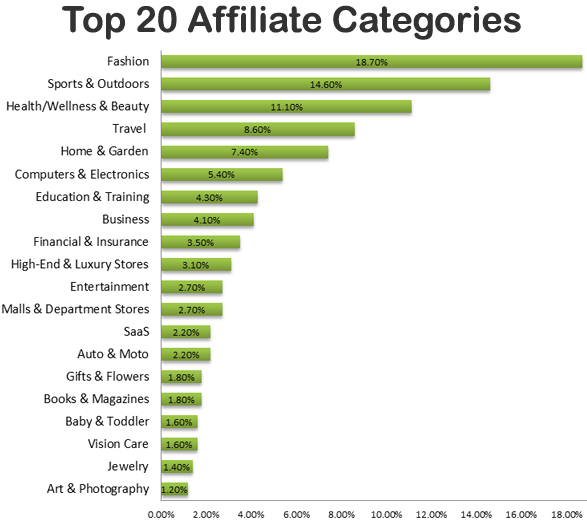 Blogging for Money – Develop Your Affiliate Marketing Content Strategy
So what is a content strategy? Well it pretty self explanatory from what the name suggests. It is a strategy for what you are going to post, how often you are going to post it and where you are going to post it. 
This is a topic I have spoken about regularly, and recently posted some great blogs to help with decide the where, what and hows. How often should you post? Check out my blog, Social Media Posts – How Much Is Too Much? Ensuring you post on time, and consistently take my advise in this article Hootsuite – Content Publishers Dream! 
When I first started out I planned my first 30 blogs, and my first month worth of social media posts. For social media I used Hootsuite to schedule the posts. For my blog posts I simply scheduled them all in WordPress to publish daily. 
To help with content idea's google was my friend! I simply googled the niche I was targeting and visited sites for ideas. Then once I established the sites that produced well written content I scoured all their posts for ideas. 
I would suggest before launching having at least 5 blogs already written and scheduled. This will give you a 5 day buffer for when you are too busy to write. From there try and write two blogs on the days you are able to write, to continue to increase this bank of articles.
There is nothing worse than being forced to pump out content on a day when you have no articles to publish and are pressed for time.  So you have your niche, you have your content strategy, now to the exciting part time to get started and make money blogging with affiliate marketing!
Show Me The Money!
Affiliate marketing and blogging has changed dramatically over the past decade. In the past you could create a blog and jam in as many ads as you could, it was expected. But now readers are interested in your content. They are happy enough with the odd advertisement here or there as long as it relates to the content, and can benefit them.
You have two options to make money blogging with affiliate marketing. 
1) you can just write really good content. There are so many bloggers out there that it is hard to stand out. If your content is great, engaging and informative people will naturally gravitate to your site. You will also start to develop a reputation as an authority on that topic.
2) You can get creative, build something unique and stand out from the crowd. Blogging in 2019 is more about cultivating a community of fans that value your unique content within a busy niche. Foster an environment that users want to be part of and join. 
Once you have started to get traffic to your blog, how do you monetise it? There are a few different methods that you can use, each with their own unique challenges, but all a valuable part of the affiliate marketing equation. 
1. Pick the RIGHT Affiliate Partner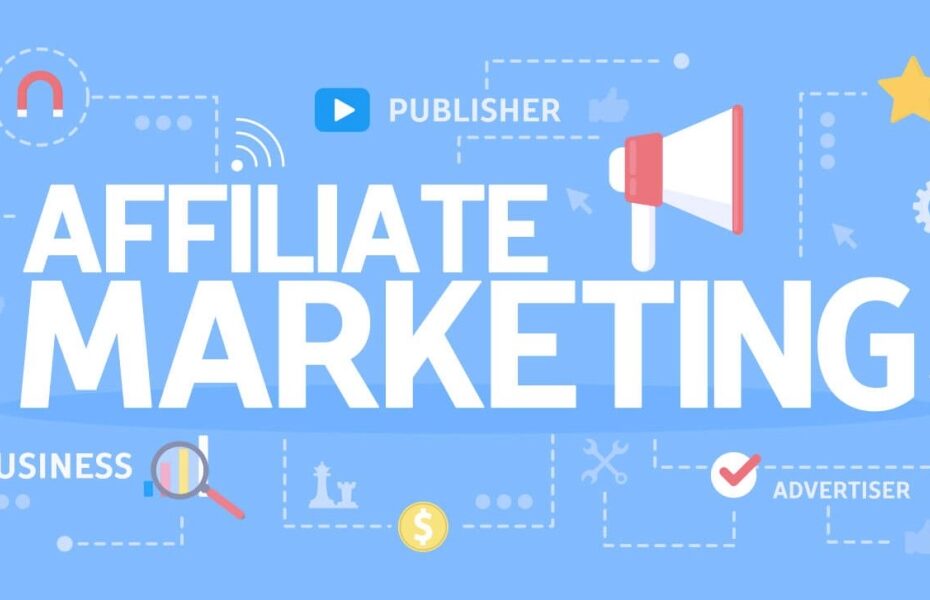 Obviously, you will be limited by those that are selling product in your niche, but you don't necessarily need to cater to the specific products of your niche. What I mean by this is, you will 
have two types of potential customers. Firstly, those specifically interested in your niche – you have to have an affiliate partner that provides niche specific product for them.
Secondly you will attract a lot of like minded people hoping to start an online business making money through affiliate marketing. For these customers I would suggest promoting an affiliate program that also TEACHES then HOW to make money through affiliate marketing. And you guessed it – I have the program for you. 
Whether you take my suggestion or not, I would strongly urge you to choose your partner based on the 3 selling points I am about to list. 
The program must have a good commission rate – stay away from MLMs their commission schedules are overly complete to appear much better than they really are. Partner with someone who offers 30% or above. 
Pick a partner that has a great product that can be sold as a stand alone-product without any affiliation to affiliate marketing. A lot of programs a create to sell their affiliate program – these will not have longevity and will eventually fail. 
Finally have confidence the team can close FOR YOU. All you want to do is hand off a lead, then have your affiliate partner sell to your lead. Let them do the heavy lifting for you. 
If you are serious about making money online I would strong suggest you check out my number 1 recommendation. It ticks all the boxes above AND will teach you how to generate leads:
2. Build A Subscriber List
In the olden days of affiliate marketing, this would have read, build an email list. However in today's day and age with open rates declining, and spam filters growing harder and harder to get through email marketing is slowly dying out, or evolving.
According to Campaign Monitor, the average open rate for email marketing is 17.92%. From industry to industry it varies between 14-20%. Now that's nothing to sneeze at, and email is still a great way to reach your subscribers. However compared to the reported 98% open rates achieved by messenger it is almost 5 times less effective. 
However you chose to reach your subscribers and those that visit your blog, you need to ensure you are capturing their information as much as possible! Subscriber lists cut through the noise. With social media platforms and search engines constantly changing their algorithms you may find yourself suddenly cut off from traffic. Marketing lists are a way to counter against this, and continue to reach your audience regardless of external changes beyond your control. 
People who subscribe to your newsletters, or blog specifically want to hear from you, so they are receptive to your message. Due to this, you can increase the value of your message by sending a messenger message or email. 
3. Reach A Wider Audience With Guest Blogging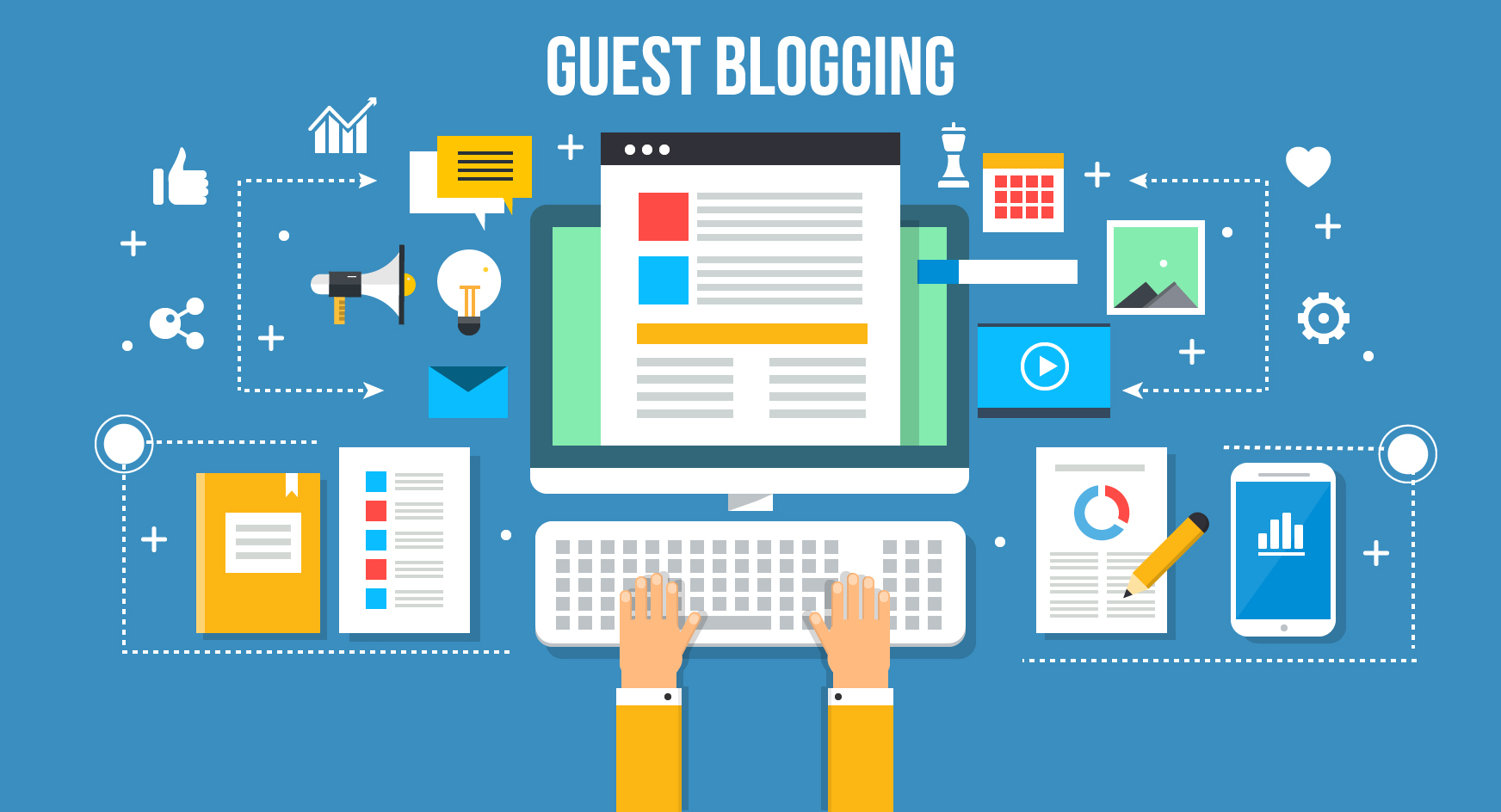 Guest blogging is a great way to reach a wider audience, as well as doing wonders for your SEO by developing credible back-links. By targeting much more develop sites, with a large audience you can immediate reach an audience that would take you months or years to gain access to by your own means. 
As your site begins to gain traction and gain credibility you may even be able to get some financial incentives for writing a guest blog. However the non monetary benefits are far more important than a small amount of money.
Back linking is when an external site links to yours, and is used by search engines to rate the credibility of your site. In short the more external links you have the higher your rating will be. If other sites link to you, it means you are a valuable resource and an authority in that space. 
Along with writing on other peoples blogs, you can also invite others to write on yours. As you first start out you may be short on content. By offering guest bloggers the opportunity to reach your network, and gain valuable back links, you can get some easy content for your site. And if they are a credible authority it will raise your profile in the industry!
RECOMMENDED: Check out my number 1 recommendation and join the Marketers Club today
4. Find Affiliate Opportunities in Your Network
Once you start to generate a good amount of traffic, you may find that affiliate opportunities are presented to you, rather than you finding them. 
Higher priced offers and special online programs often limit those who can marketer the course or program. This maintains a good level of credibility to their product by ensuring everyone is not spamming links to their offering making it seem scammy. 
These opportunities often pay well, and because there is a limited number of affiliates you achieve much higher payouts than normal. In fact, a mentor of my recently made over $250k from promoting the Tony Robbins, Russell Brunson & Dean Graziosi event. Guest blogging can help connect you with influential bloggers who have their own programs. 
Make sure to stay in touch with influential figures in your industry, so next time they are planning to launch a program – you are first on their list to launch.
5. Make Your Blog SEO Friendly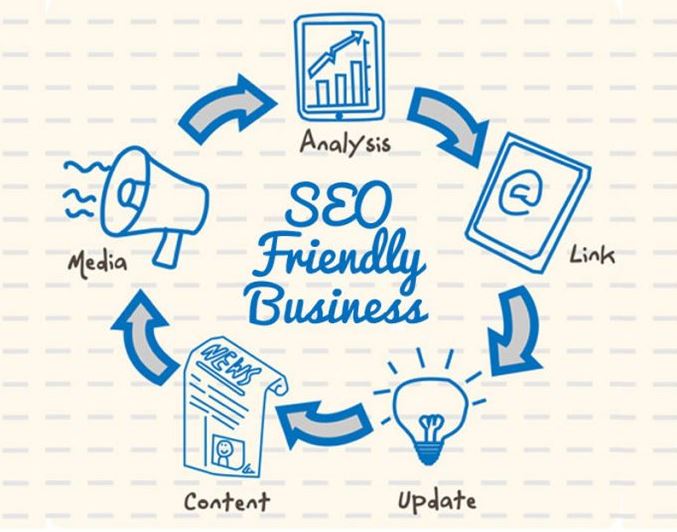 The ultimate for a blogger is getting traffic without promotion. To get free traffic, you need to ensure your blog is SEO friendly. SEO stands for "search engine optimization." It is the process of getting traffic from the "free" and "organic," search results on search engines.
When someone searches something in a search engine such as google, an algorithm is used to rank which sites should be displayed at the top of the search. There is an art to getting to number one, with many different variables coming in to play. But you can strong increase your chances by doing a few small things. There are so many things to take into consideration, which I go to in detail in my two blogs, 10 SEO Facts You Never Knew, 5 Easy To Fix SEO Errors. However to summarize
Ensure you link to other pages on your site, and other websites.
Include images with alt attributes (small description as to what the image is, in case it doesn't display)
Make sure you have a H2 header on your page
Include video content where possible
Work on developing back links through guest blogging
Think about which keywords you should target – try not to focus on generic search terms, focus on more specific terms as these are easier to rank with
Blogging and Affiliate Marketing Can Help You Earn Passive Income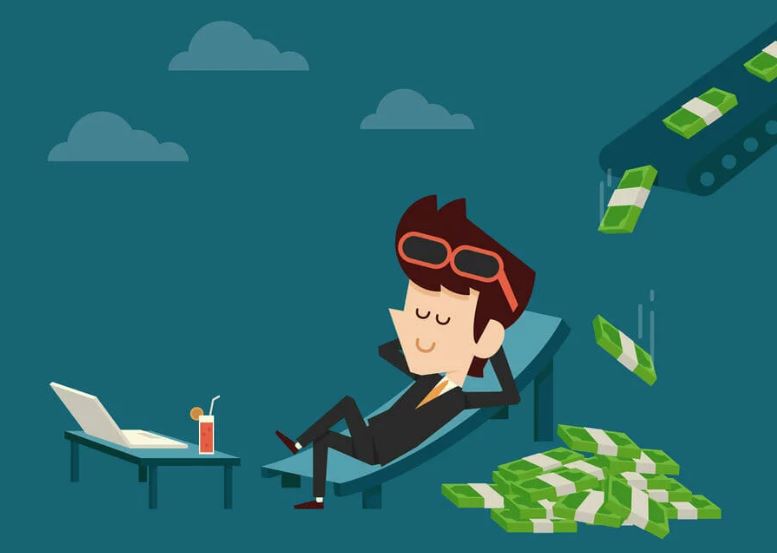 After months, or years of consistently posting and sticking to your content schedule, you can start to generate regular traffic to your site, through search engines. After ensuring your site is SEO friendly, it is a matter of time before the search engines pick up your blog.
As you add more content to you site, you have more and more material to be referenced. After at least 6 months or possibly a year, if you pay close attention to your search ranking you can start to appear on the first page of Google, even possibly the top.
Once you have achieved this milestone, any time someone googles that specific term they will land on your site – and you have free traffic. Get enough traffic and undoubtedly you will convert some of these leads. The more free traffic you generate, the more passive income you will earn. 
This is a long term play, and you really need to be committed and dedicated to your blogging to get to this level. But some blogs generate over a million visitors a month simply from SEO. Then they are yours to sell to!
Before You Leave…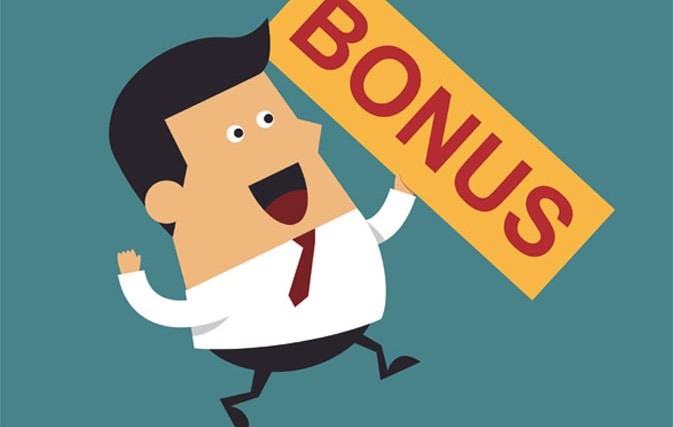 Many people make a very comfortable living through affiliate marketing and blogging. The key is to approach it with a long term mindset. Do not consider it a get rich quick scheme, but rather you are setting up an online business. 
You will need to commit to the journey, and be dedicated enough to consistently spend time of your affiliate marketing business. But ultimately if you stick to it, you will start seeing some great results. 
If you want to make money online, you need a real system, a good affiliate program, and training. 
Fortunately through all my reviews and research I have found the perfect program that ticks all the boxes. The product you sell WILL TRAIN YOU how to sell it. Not only that, once you sign up you can enroll in a 15 Day Business Challenge where you are teamed up with a business advisory who helps you build YOUR business. 
Not only that, the Marketers Club will give you access to countless video resources on marketing, and how to  set up a successful online business. Throughout the entire journey you can reach out to your business advisory any time! This is my number 1 recommendation!
If you are serious about making money online, join the marketers club to learn all the secrets to online marketing:
Please follow and like us: