Do you want to maximise traffic to your website with YouTube? It is often difficult to know where to start, but the steps you need to follow are actually quite simple. Depending on which source you refer to there are between 100 and 300 hours of video uploaded to YouTube every minute. Further more there are 3.25 billion hours of video watched every month. 
The benefits of using the YouTube as a marketing tool are obvious, but what about using it to drive traffic to your website. YouTube is a powerful tool to help you achieve organic traffic to your website. Just like google, YouTube is a search engine. In fact, it is the second biggest search engine behind Google.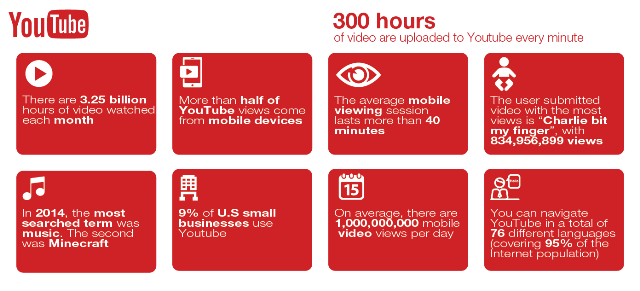 In order to get website traffic, you need to get channel views and video views. When your viewers click through to page they then have the opportunity to funnel through to your website. So with all that in mind here are 6 tips to maximise traffic to your website with YouTube.
1. Think over your title and video description
Your first step is what to call your video and what to put in your description. If you approach YouTube like a search engine, it can be easier to decide what to name your video. What will people be searching for? Just like SEO for websites, you need to consider keywords for your video titles and descriptions. Not only is your title important for grabbing the attention of viewers, but it also can improve the position of your video in search results.
Your title should be clear and concise as well as featuring the keywords you are wising to target. Tools such as Keyword Tool and Word Tracker allow you to research your keywords and identify high volume, low competition words to target. 
Your description should then include these keywords as well, along with your URL and a call to action. 
2. Choose carefully your thumbnail
Just like your title, the thumbnail your choose for your video has a massive impact on click through. It is often the first and only thing potential viewers will see, so needs to be unique and eye catching enough for them to want more.
YouTube automatically gives you three suggested thumbnails to choose from, but they are just snippets from your video. Often YouTube's make custom thumbnails that are more eye catching, with bold and impressive titles. If you want to drive traffic, you need to make your thumbnail click-worthy. 
Search any topic in YouTube and take a look at the top results, what are they doing with their thumbnails? Take advantage of other successful channels and try to use strategies that are obviously working for them, for yourself. Your thumbnail is your Video Ad – make it impressive!
3. Organise Your Channel
Your YouTube channel is almost like a mini web page, you need to customise it to make it you look appealing. Just like Facebook, you can set up a cover page known as channel art, and a channel icon or "profile picture". Just like your thumbnails make these eye catching and Representative of your brand. 
At the top of any channel you will may notice there is one highlighted video. The purpose of this video is an introduction to your page. It displays to anyone who has not subscribed to your page. YouTube suggests the following when creating effective channel trailers:
Assume the viewer has never heard of you
Keep it short
Hook your viewers in the first few seconds
Show, don't tell
Ask viewers to subscribe in your video and with annotations
Finally to organise your video content you MUST use playlists and sections. Have you ever noticed when you land on a channel there is often a line of of videos, underneath a heading? Then another line with a different heading? 
These are sections, and are a great way of grouping your content based on the topics or intention of the videos. For example you may have affiliate marketing reviews, affiliate marketing tips as two section headings if you had an affiliate marketing YouTube channel. Buffer has a great article on the actual process for creating playlists and sections you should check out!
4. Add Channel Tags
Channel tags are work in a way like Hashtags on social media channels. According to a recent article by hotpot on why YouTube tags are important.
YouTube tags are important because they help YouTube grasp your video's content and context. This way, YouTube can understand your video's topic and category, and associate it with similar content, which can amplify your video's reach.
Just like alt text images, YouTube cannot understand the content of your videos. Tags help YouTube understand what the content is about, and display it appropriately in search results. As a general rule you should
Make your first tag your target keyword and order the rest by importance.
Use some broad keywords that describe the overarching topic your video falls under as other tags.
Use some specific keywords that describe the topics you covered in your video as other tags.
5. Pay Attention to Comments
Just like engagement is critical on social media, so too is it on Youtube By engaging with your audience you are more likely to develop a trusting and loyal relationship with your followers. You wan't your subscribers to keep coming back to your content, and to watch all your videos. Not only does this give you an opportunity to sell to them, but it can help with your position in search results.
Watch time and engagement are important factors within the YouTube algorithm. Whilst the exact algorithm is complex and constantly changing, it make sense that YouTube would rate videos that people are watching, re-watching and engaging with higher than those that are not.
You can encourage users engagement just like you do on other social channels. Ask them specific questions or for feedback. A common tactic YouTubers use regularity is to ask subscribers to add something in their comments section. Also featured heavily at the start or end of videos is a request to like the video and subscribe.
The more involved you are in discussions, and with your community, the more they will respond and interact with you. Creative a loyal following by being available!
6. Experiment with Ads
While you may also hover over the skip button on YouTube ads, you would be surprised at how effect advertising could be. Not to mention its cost effective. Brands now are becoming incredibly creative with their Ad content. You  have 5-10 seconds before someone can skip and if you make it memorable enough they will either continue to watch or remember your brand.
According to Contently, 43% of new customers buy something they saw in a YouTube ad. That's an incredibly encouraging statistics. But it doesn't stop there. You can start to get very targeted and creative with your ads when you integrate them with your YouTube content. Re Targeting is a great way to maximise your ad spend on people who are actually interested in your content. 
Imagine advertising your product, or website to someone who watched your video. They are already in the contemplation stage so conversions are much higher. By really defining your target market, and using re targeting you can expect higher conversions and also minimise your advertising spend on the wrong people.
Conclusion
So there you have it, 6 tips to maximise traffic to your website with YouTube, you are a master! Not quite, but you now have the fundamentals to at least understand the process and build a solid foundation to work with.
If you have aspirations to build an online business and make money online the key is knowledge. One blog post wont get your there unfortunately. The more you know, the more effectively you can grow your business and make sales.
I am surrounded by affiliate marketers that have been in the industry for years, even decades and I am constantly learning from them. Some make $100k+ in a month, and even they invest in their education and up skill themselves regularly. 
Fortunately I have been lucky enough to review a lot of programs and training systems. That is why my number 1 recommendation is to invest in yourself and to learn the skills you NEED to grow and build an online business. From people who have been doing it for years SUCCESSFULLY.
Below is my number 1 recommendation and it is what helped me to get into the position I am in today. Once you sign up to the Marketers Club you can take the FREE 15 Day Business Challenge and team up with your very own business adviser.
You will then work on building a plan to start YOUR business and learn the keys to building a profitable online business. The best part is your adviser is there every step of the way. You can ask them anything!
If you are serious about making money online, join the marketers club to learn all the secrets to online marketing:
Please follow and like us: